Jhankar Music is a big name in the regional music industry, known for being a leading music label, film production house, and digital studio. This label is dedicated to honouring the music and cultural heritage of India.
With an impressive legacy, Jhankar Music offers a huge collection of regional films, mesmerising video songs, movie trailers, comedy videos, and devotional songs. The studio proudly showcases the works of iconic artists from both the golden era and the present generation, such as Dr. Rajkumar, Dr. Vishnuvardhan, Ambareesh, Ravichandran, ShivrajKumar, Puneeth Rajkumar, and more. Each artist adds their unique flair, contributing to the vibrant tapestry towards entertainment.
Jhankar Music's vision is to empower regional creators from the roots of India like musicians, dancers, singers, writers etc which would help them present their unique culture and diversity not only to the people of India but help them stand tall on a global level in their own regional language. This helps the artist to not only express their creativity but also become financially stable in their career.
In order to achieve this goal, Jhankar music has released songs not only in Kannada but also Hindi, Gujarati, Tulu, Tamil and Telugu! The youtube channel of Jhankar music, namely, "Jhankar Music World" was created with the same ambition.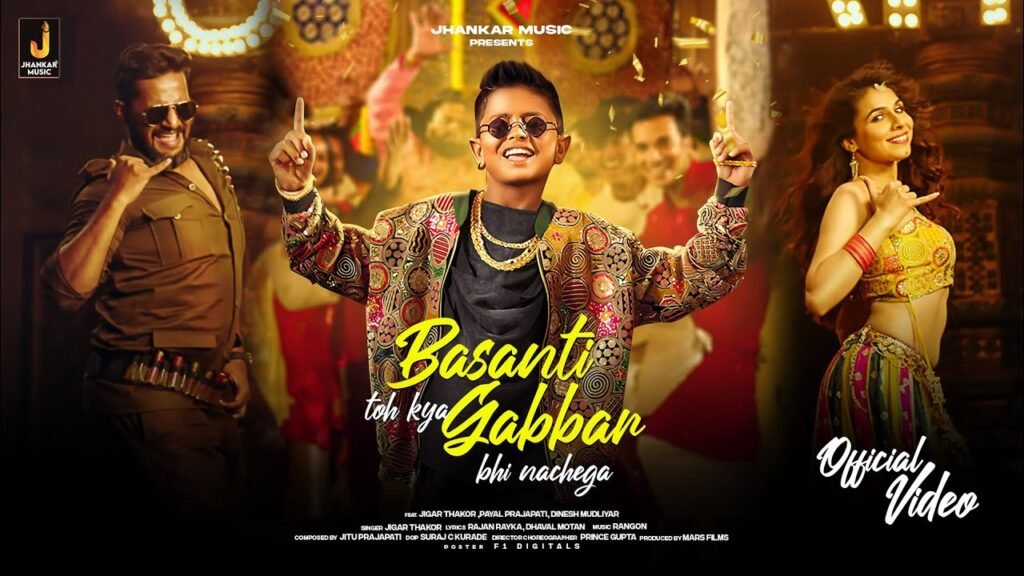 In addition to this mission, Jhankar Music has recently released the hit song ,"Basanti Toh Kya Gabbar Bhi Nachega" which shows their commitment to promoting regional and child artists and giving them a global platform to showcase their talent . Sung by Jigar Thakor, this latest offering showcases his exceptional talents, adding soul to the track with his captivating voice.
"Basanti Toh Kya Gabbar Bhi Nachega" is the result of a talented team of creators. Rajan Rayka and Dhaval Motan wrote the lyrics, along with the vibrant music composed by Jitu Prajapati. The music, arrangements, and orchestra were collaboratively done by Rangon and Abhijeet Gadwe, with additional music production led by the KD.
Prince Gupta, the gifted director and choreographer, brought this song to life with his creative vision and expertise. The remarkable cinematography is the work of Suraj C Kurade, who brilliantly captures every emotion and movement. The video is a collaborative effort of Prince Gupta Films, with Sonam Gupta contributing as the creative head. Adding to the charm of the video are the exceptional performances of assistant choreographers, including Ali Choudhary, Dinesh Mudliyar, Ketul Waghela, Hitesh Solanki, Durgesh Sambharya, Vishal Vdre, and Anjali Bhakte.
Paraag Choudhary served as the associate director, while Prayas Choudhury managed the production with efficiency. Binnies Bliss, the talented costume designer, and The Big Bang Saloon, known for their outstanding hair and makeup work, played an important role in creating the perfect look for the characters.
The track's final touches were handled by Hanish Taneja during the mixing and mastering process. Vocal designing was undertaken by KD, bringing out the best of Jigar Thakor's incredible voice. Saugato Roychowdhury served as the music supervisor, ensuring a seamless production process.
Jhankar Music was also aided by the Prince Gupta Film Team, including Durgesh, Vishal, Kamal Bhati, Anjali Bhakte, and Chirag Mistry, for their dedicated contributions to this project. The music video's poster was designed by F1 Digital, adding to the excitement and anticipation surrounding the release and the song would not have been complete without the support and assistance of Chandu Raval and Gaurav Kothari, who receive special thanks for their invaluable contributions.
The official video song of "Basanti Toh Kya Gabbar Bhi Nachega" is now available on Jhankar Music's YouTube channel. Additionally, music enthusiasts can enjoy the full song on various music platforms like iTunes, Gaana, Amazon Prime Music, Spotify, and YouTube Music.
There is a lot more yet to come for all the music lovers who are into Indian folk and regional music! Stay tuned for more updates from Jhankar Music