The Birth of a Culinary Legend
In the year 1999, a young entrepreneur named C.Y. Aasife embarked on a journey that would change the culinary landscape of Chennai. Armed with a passion for cooking and a small investment from a LIC 'Money Back policy,' Aasife set up a small pushcart in T Nagar, selling his delectable biriyani to eager customers. Little did he know that this humble venture would lay the foundation for a biriyani empire.
The Recipe for Success
What sets Aasife Biriyani apart from the rest? It is the unwavering commitment to quality and taste that Aasife himself instilled in every aspect of his business. From the meticulous selection of ingredients to the precise preparation techniques, every step is done with utmost care to ensure that every plate of biriyani that leaves the kitchen is a masterpiece.
One of the secrets to the impeccable flavor of Aasife Biriyani lies in the sourcing of ingredients. Aasife personally oversees the procurement of high-quality masala products and superior rice, ensuring that only the best goes into his biriyani. This attention to detail is what gives Aasife Biriyani its unparalleled taste and has made it a favorite among biriyani connoisseurs.
A Journey of Expansion
From its humble beginnings on a pushcart, Aasife Biriyani has grown by leaps and bounds. Today, it boasts a network of over 40 franchise outlets across Tamilnadu, Kerala, Andhra Pradesh, and even in Singapore. The brand's rapid expansion is a testament to the trust and love that customers have for Aasife Biriyani.
One of the key factors behind the successful expansion of Aasife Biriyani is its focus on maintaining consistency across all outlets. Every outlet follows a standardized process and recipe, ensuring that customers experience the same exceptional taste, whether they are in Chennai or Singapore. This dedication to quality has earned Aasife Biriyani a reputation as the best biriyani in Tamilnadu and has fueled its growth in new markets.
The Man Behind the Magic: C.Y. Aasife
At the heart of Aasife Biriyani is its visionary founder, C.Y. Aasife. Born and raised in Chennai, Aasife's love for cooking and his determination to achieve greatness paved the way for his success. Despite facing financial difficulties and limited formal education, Aasife's passion and entrepreneurial spirit propelled him to build an empire out of his biriyani.
Aasife's journey is a testament to the power of hard work and perseverance. From his early days of selling biriyani on a pushcart, he has come a long way to become a respected figure in the food industry.
The Aasife Biriyani Experience
What makes Aasife Biriyani a favorite among biriyani enthusiasts? It is not just the exquisite flavors that dance on the tongue but also the overall experience that customers enjoy. Aasife Biriyani outlets are known for their warm and welcoming ambiance, where families and friends can gather to savor a hearty meal together.
The menu at Aasife Biriyani offers a wide range of options to cater to different tastes and preferences. From the signature biriyani, cooked to perfection with fragrant rice and succulent meat, to the delectable non-veg starters and flavorful fried rice, there is something to please every palate. And let's not forget the famous falooda, a refreshing treat that perfectly complements the biriyani feast.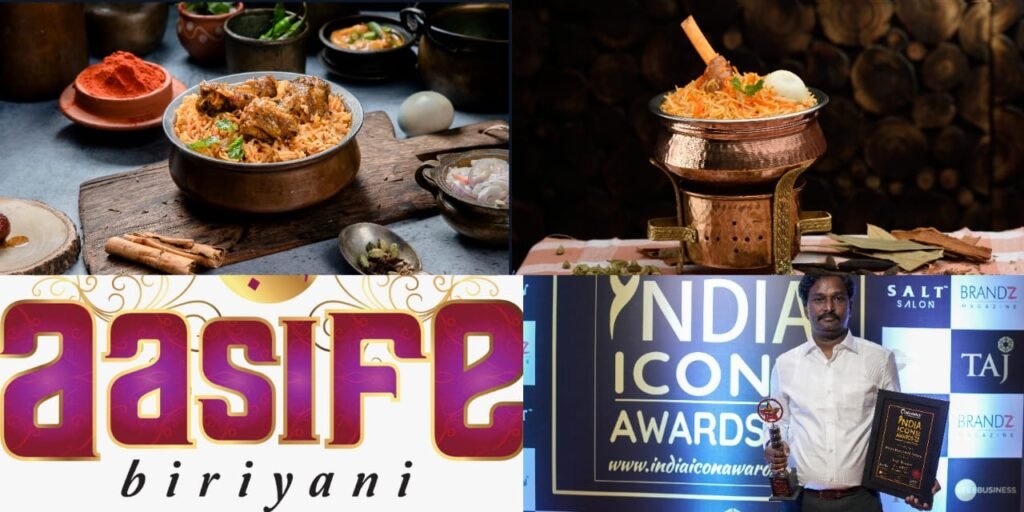 Aasife Biriyani: A World of Opportunities
The success of Aasife Biriyani has not gone unnoticed. As the brand continues to grow, it presents an exciting opportunity for aspiring entrepreneurs to join the Aasife Biriyani family. With over 40 franchise outlets already operating successfully, Aasife Biriyani is actively seeking passionate individuals who want to start their own biriyani restaurant and be a part of this culinary revolution.
By becoming a franchisee, individuals can tap into the thriving biriyani market and leverage the brand recognition and support offered by Aasife Biriyani. With a proven business model and a dedicated team to provide guidance and training, franchisees can embark on their entrepreneurial journey with confidence.
The Future of Aasife Biriyani
The story of Aasife Biriyani is far from over. With its sights set on expanding its presence across Tamilnadu and beyond, Aasife Biriyani is poised to become a household name in the biriyani industry. The brand's future plans include opening more outlets in Chennai and exploring opportunities in other states like Delhi and Karnataka. Aasife Biriyani also has its sights set on international markets, with plans to establish a presence in countries like Dubai, Muscat, Oman, and Malaysia.
The driving force behind Aasife Biriyani's future success is its commitment to maintaining the authenticity and quality that has made it the best biriyani in Tamilnadu. The team at Aasife Biriyani understands that expanding the brand globally will bring new challenges, but they are determined to overcome them without compromising on taste or quality. Their goal is to make Aasife Biriyani as famous as international fast-food chains like KFC or McDonald's, with the tagline "world's best biriyani."
Join the Aasife Biriyani Journey
In conclusion, Aasife Biriyani is not just a biriyani brand; it is a culinary sensation that has captured the hearts of food lovers across Tamilnadu and beyond. The journey of Aasife Biriyani, from a small pushcart to a fast-growing chain of outlets, is a testament to the vision and dedication of its founder, C.Y. Aasife. With its commitment to quality, consistency, and customer satisfaction, Aasife Biriyani is poised to become a global leader in the biriyani industry.
If you have a passion for biriyani and a desire to start your own restaurant, consider joining the Aasife Biriyani family as a franchisee. With a proven track record and a strong support system, Aasife Biriyani offers a world of opportunities for aspiring entrepreneurs. Start your own biriyani restaurant and become a part of the Aasife Biriyani success story.
So why wait? Indulge in the flavors of Aasife Biriyani and experience the magic for yourself. Visit your nearest outlet or order online to savor the best biriyani in Tamilnadu, prepared with love and passion by the team at Aasife Biriyani.
Website: https://aasifebiriyani.com/