Naveen Aaru, a name that echoes in the world of strength sports, has consistently proved his mettle with an impressive list of accomplishments. This talented athlete has earned accolades both nationally and internationally, showcasing his dedication and passion for the sport.
At the prestigious World Book of Records in 2021, Naveen Aaru etched his name in history, setting a remarkable benchmark for others to follow. His exceptional skills and unwavering determination have led him to clinch the gold medal at the International Championship in the 60kg category, held in Kathmandu, Nepal on 28th November 2022.
His journey to success began at a young age, when he dominated the field of strongmen, winning the gold medal in the under 18 50kg category at the state level. His triumphs continued with two national gold medals under his belt, the first in Palampur, Himachal Pradesh in March 2017, and the second in Udaipur, Rajasthan in November 2018, competing in the 50kg and 55kg categories, respectively.
With an impressive tally of 15 state gold medals, Naveen Aaru has consistently proven his prowess and dedication to the sport. His relentless pursuit of excellence has made him a role model for aspiring athletes.
Apart from his achievements in the field, Naveen Aaru is an influential figure on social media, where he shares his fitness journey and inspires thousands of followers. You can catch glimpses of his rigorous training sessions and motivational messages on his Instagram handle @naveen_aaru. His Facebook page, Aaru Fitness, also serves as a platform to connect with his fans and well-wishers.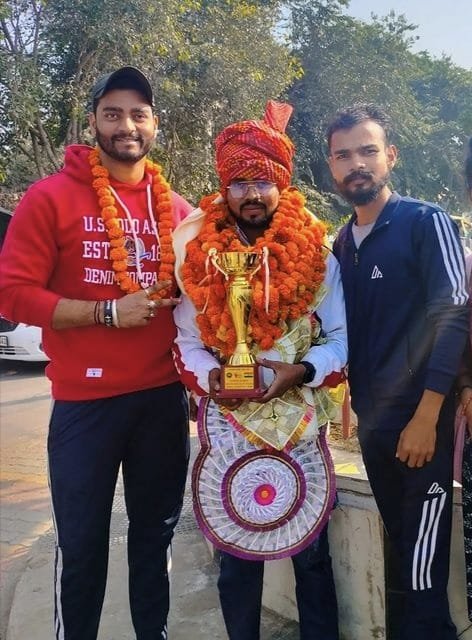 In addition to his competitive spirit, Naveen Aaru generously imparts his knowledge and expertise to others through his YouTube channel @naveenaaru2271, where he shares valuable insights on fitness and strength training.
To learn more about Naveen Aaru and his incredible journey, you can reach out to him at +91 83988 00452.
Naveen Aaru continues to be an inspiration for young athletes, and his achievements serve as a testament to the power of determination and hard work in achieving one's dreams. As he continues to soar to greater heights, the future looks brighter than ever for this rising star in the world of strength sports.