Fahaad Bhat is a prominent social activist and the founder of the "Being Humane" Organization. He is known for his dedication to social justice, human rights, and collective responsibility. With a mission to serve humanity and work towards global peace, Fahaad Bhat has made significant contributions to empower the oppressed and create a world where peace, dignity, and compassion prevail.
Early Life and Background
Fahaad Bhat was born and raised in Hyderpora, Srinagar. From an early age, he showed a deep concern for social issues and a desire to make a positive impact on society. His upbringing instilled in him a strong sense of empathy, which later became the driving force behind his philanthropic endeavors.
Being Humane Charitable Trust
Motivated by his vision of a world without discrimination, Fahaad Bhat established the Being Humane Charitable Trust. The organization is built upon the principles of social justice, human rights, and respect for diversity. Its mission is to promote social development among underprivileged individuals, groups, and communities, focusing on healthcare, social integration, and personal realization. Through his trust, Fahaad Bhat has dedicated himself to empowering vulnerable children, young people, adults, and families, advocating for their rights and well-being.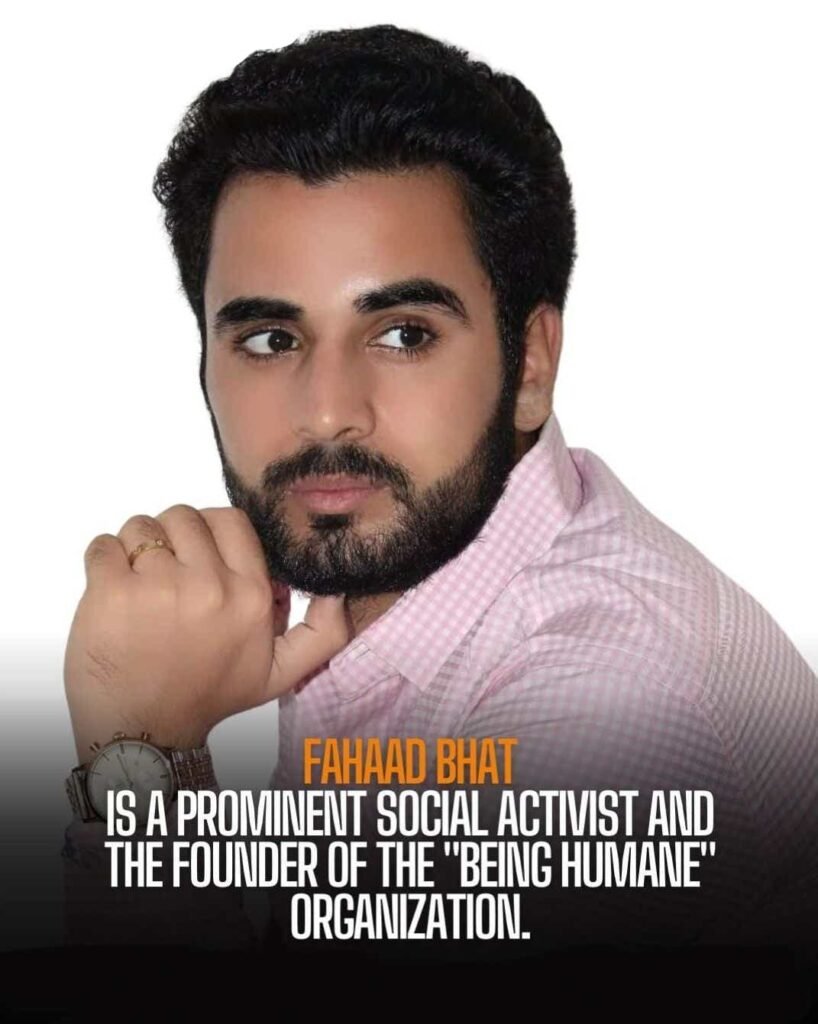 Career
Fahaad Bhat's career as a social activist has been characterized by his unwavering commitment to making a difference in the lives of others. He has tirelessly worked to endorse human rights, particularly for children, young people, and underprivileged communities. Fahaad Bhat has also been actively involved in promoting voluntary work and encouraging the empowerment of girls through education and life skills training.
Awards & Recognitions
Fahaad Bhat's remarkable contributions to society have garnered numerous awards and recognitions. He has been recognized by esteemed organizations such as the Rotary Club, International Interchange Development Foundation, and the World Literary Forum for Peace and Humanity (WLFPH). Fahaad Bhat has been honored with the titles of International Ambassador of Peace, Legal Icon, Corona Warrior, and Front Line Warrior. He has also received awards from the Asian Sports & Physical Fitness Board, Indian Women Association, China University of Herbal Medicine, SAWASH, Books of Peace, and the International Organization of Educators and Researchers Inc. Moreover, Fahaad Bhat was bestowed with the prestigious Mahatma Gandhi Peace Award and was awarded an Honorary Doctorate from Tulbu World Turkish Mixed Martial Art for his outstanding contributions to society. His excellence in social work has been acknowledged with the Excellence in Social Work Award.
Vision & Mission
Fahaad Bhat's inspiring journey as a social activist and his relentless dedication to humanitarian causes continue to make him an inspiration for the youth and a beacon of hope for those in need. His work serves as a reminder of the power of compassion, empathy, and collective responsibility in shaping a better future for all.
Social Media Links
LinkedIn: https://www.linkedin.com/in/fahaadofficial
Instragram: https://instagram.com/theofficialfahaad?igshid=NTc4MTIwNjQ2YQ==